Which bat is best for me?
How do you decide which model is right for you? There are many different models available when it comes to selecting a wood baseball bat. Besides picking up every model and swinging it several times, the next best thing is to know what makes a model unique, what kind of hitter you are and what feels best to you.
The basic parts of a wood baseball bat that you need to familiarize yourself with are:
Knob Style:
Standard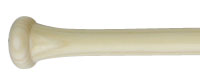 Standard knobs are going to be closer to what a metal bat feels like and is usually a safe starting spot with high school players and below.
Flared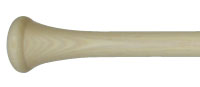 Flared knobs vary slightly but for the most part they taper from the knob to the handle and create a smooth transition.
Bell/Large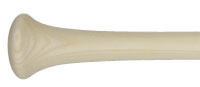 Bell shaped knobs are unique in the sense that there isn't metal bats that compare. One important thing with the bell shaped knob is that people feel as if it works as a counterweight. This means when you swing the bat, it feels like the barrel has more whip and travels through the hitting zone faster.
Cone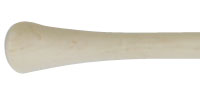 Cone knobs are preferred by people with hand injuries or people who like to have their fingers dangle off the end of the bat. It's a great alternative to people who have hamate bone injuries.
Handle Size:
When it comes to handles, the biggest thing you need to be aware of is the thickness. Thinner handles are less durable which puts your bat at a higher risk for breaking. Thicker handles are more durable and will last longer because there's less leverage on the weaker points on the bat. Model 243 has the thinnest handles, while model 161 has the thickest handles. 110s and 271s are a happy medium between both.
Barrel Diameter:
Bigger isn't always better in this case. Large barrels correlate with difficulty in bat control; a good choice for power hitters. For contact hitters, gap hitters or someone who runs into a bomb every once in a while, 2.5" barrels are plenty big enough. People new to wood bats aren't advised to use anything bigger than a 2.5" barrel, especially when transitioning from metal. Anything bigger causes end heaviness resulting in overcompensation at the plate. Average barrel size models are the 271, 110 and 175G. Bigger barrel size models are the 243, 73, 222, 174G and JH9.
Length of the Sweet Spot
Adult models have a sweet spot 2 inches in from the end of the bat and starts slightly after the barrel reaches max diameter. Bats like our 175G and 174G hit max diameter faster, while others have more of a transition.
We've broken up some of our 3 packs into pre-defined models for specific hitters. The contact pack includes our 271, 110, and 141 models.
Our power pack includes our 243, 222, and 174G.
We also have a sample pack that has a slight mix of everything for people who want to get a feel for what's out there that includes our 222, 271, and 73 models.
The most important part when selecting your wood bat is figuring out what feels best to you. Hopefully after reading this, you'll have a better idea about what you will need when it comes to selecting wood bats.